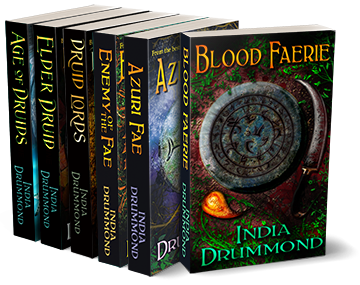 Plucked from their homes and transported to the fae realm, a handful of humans from around the world must survive, tame their magic, and some will even find love. Forces that oppose them will stop at nothing to hide the truth and regain control, plunging the world into chaos. Those who do survive will usher a new era into the Otherworld.
If you like fast-paced magical tales full of danger and suspense where the stakes are nothing less than the survival of two worlds, you'll love Caledonia Fae.
Want the whole series? Check out the boxed sets.
Book 1: Blood Faerie
Unjustly sentenced to death, Eilidh ran—away from faerie lands, to the streets of Perth, Scotland. Just as she has grown accustomed to exile, local police discover a mutilated body outside the abandoned church where she lives. Recognising the murder as the work of one of her own kind, Eilidh must choose: flee, or learn to tap into the forbidden magic that cost her everything.
Book 2: Azuri Fae
A faerie prince disappears in the borderlands, and his father enlists the help of outcast Eilidh and her bonded druid, Quinton Munro. Tantalized with hints of a lost and ancient magic, they learn that time is working against them every step of the way. Is the prince's disappearance related to the vanishing of an entire Scottish village?
Book 3: Enemy of the Fae
With a young, inexperienced monarch on the Caledonian throne and traitorous plots implicating those nearest Queen Eilidh, unrest is rife in the kingdom. She must sift through the intrigues and lies to survive, all while trying to discover which of her trusted companions hates her enough to commit mass murder.
Book 4: Druid Lords
The druids of Caledonia have taken their place in the Halls of Mist, only to learn that their path is fraught with many dangers. When their newest member finds a woman of magical talents in Amsterdam, their troubles multiply. Lying between them and a peaceful existence are a dead prince, a furious queen, and a druid accused of murder. Each druid must search his soul and discover where his talents, and his loyalties, lie.
Book 5: Elder Druid
As the Druid Hall celebrates the completion of the Mistgate, their leader Munro is abducted, leaving them in disarray. Queen Eilidh declares Munro dead, which threatens the fragile balance of power in the Halls of Mist. With the druids crippled by grief and uncertainty, no one notices the insidious force influencing them from a dark mirror realm. Will the quest to challenge that force bring redemption or ruin?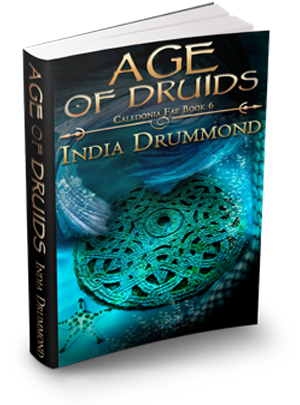 Book 6: Age of Druids
Imprisoned by the demons of The Bleak, two lost druids fight to survive while Munro pushes himself to the brink to find them. In his search, he discovers a mysterious gate even the oldest and wisest of the Otherworld fear.
The Halls of Mists are in ruin, and people scheme, grasping at power as a new kingdom emerges and an ancient one reappears. Tragedy pits druid against queen, testing friendship, loyalty, and love once more.
© 2016-2019 India Drummond, Trindlemoss LLC. Unauthorized use and/or duplication of this material without express and written permission from the author is strictly prohibited. Excerpts and links may be used, provided that full and clear credit is given to India Drummond with appropriate and specific direction to the original content.